Bethail
Race: Elf

| Body | Agility | Reaction | Strength | Charisma | Intuition | Logic | Willpower | Edge |
| --- | --- | --- | --- | --- | --- | --- | --- | --- |
| 4 | 4 | 4 | 3 | 4 | 3 | 3 | 3 | 3 |
Essence: 6
Initiative: 7
Initiative Passes: 1
Physical Damage Track: 10
Stun Damage Track: 10
Skills:
Active Skills
Armourer: 4
Close Combat Skill Group: 3
Demolitions: 3
Dodge: 2
Firearms Skill Group: 5
Longarms +1
Pistols +1
Heavy Weapons: 2
Negotiation: 2
Infiltrate: 2
Throwing Weapons: 2
Knowledge Skills
Blade Design: 3
Chemistry: 2
Engineering: 4
Firearm Design: 4
Gun Trivia: 2
Language Skills
Arabic: N
English: 3
Qualities
Guts
Addiction (Mild, Stimulants)
Allergy (Mild, Seawater)
Natural Low-Light Vision
Gear & Lifestyle (130,000¥)
Weapons:
Combat Axe (Reach 2; STR/2+4; P; AP-1), Katana (Reach 1; STR/2+3; P; AP-1), Stun Baton (6s; E; AP-Half), Survival Knife (STR/2+1; P; AP-1)
10x Throwing Knives (STR/2+1; P)
8x Fragmentation Grenades, 4x Flash-Paks
Ares Predator IV (5P; AP–1; SA; 15 [c]) -Quick Draw Holster and 9 clips of Explosive Ammo
Yamaha Sakura Fubuki (4P; SA/BF; 1; 10 ml x 4) -Smartlinked, w/Concealable Holster, Silencer and 8 clips of Regular Ammo Concealed
Ranger Arms SM-4 (8P; AP–3; SA; 1; 15 [c]) -3x clips Regular Ammo, rigid shock stock pad, silencer, collapsable, smartlinked.
Aztechnology Striker w/ Fragmentation Rocket, Ares Predator IV, Skorpion Submachine gun, 4x Heckler and Koch 227 HK Submachine guns.
Gear
Armourers Kit;
Respirator (Rating: 6)
Armour Jacket (8/6), Lined Coat (6/4), Helmet (+1/+2)
Novatech Airware Commlink w/ Renraku Ichi OS and Sim Module; Contact Lenses w/ Image Link and Smartlink
20x Stimulant patches, 6x spare explosive rounds, 10x spare sniper rounds.
Horizon security attire
Japanese Linguistics Software (1)
Middle Lifestyle (1 Month)
> Armourer Facility
Contacts
Arms Dealer (Connection 2/Loyalty 2)
Fixer (Connection 2/Loyalty 2)
Mercenary (Connection 2/Loyalty 2)
Currency:
9, 049¥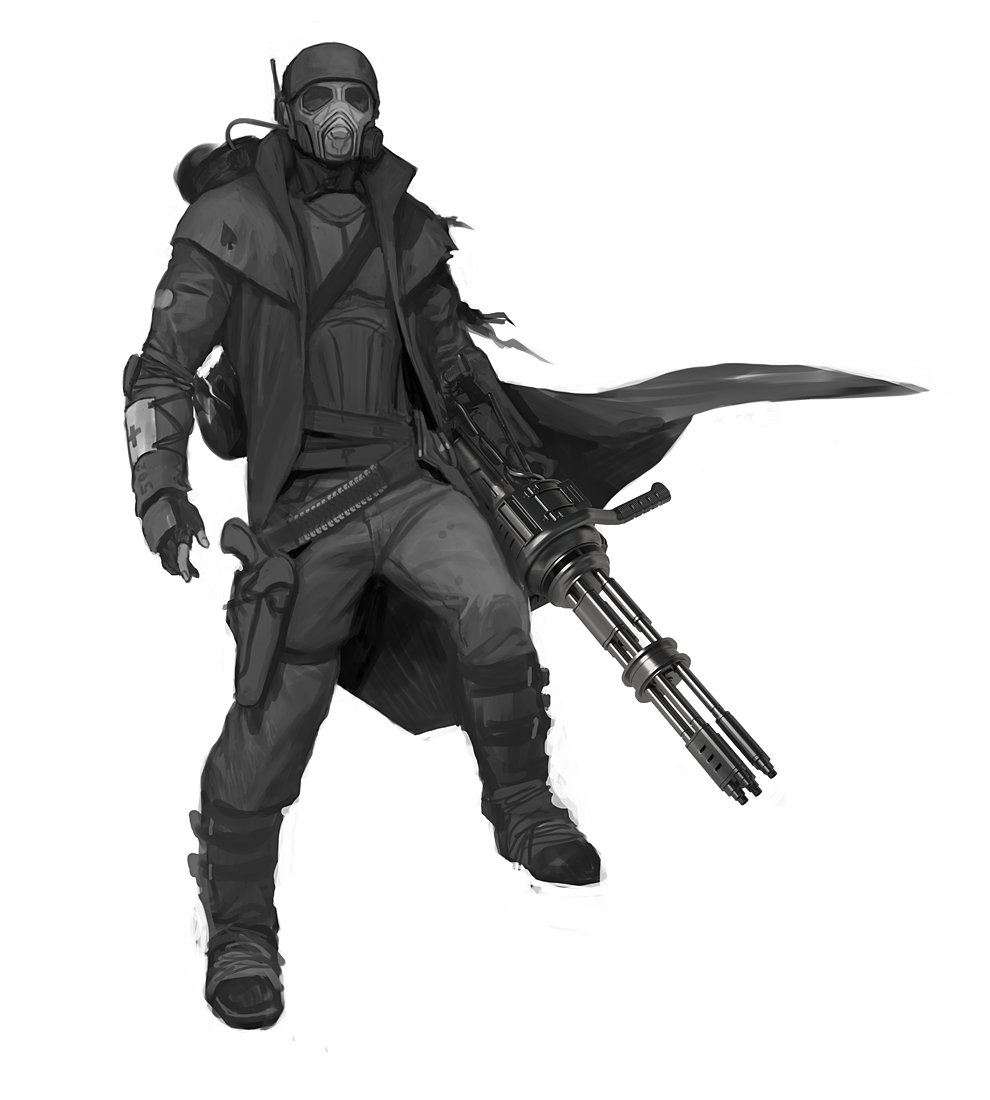 Born to an American private military contractor and his wife working in the Middle East.
Grew up surrounded by conflict.
Served briefly as quartermasters assistant before taking up a more lucrative contact as a gun runner in the United States of America and Canada.
page revision: 7, last edited:
15 Jul 2012 15:16